CYBER MACHINE MONITOR
FOUNDRY & CASTING TECHNOLOGY
ZOLLER MEASURING SYSTEM
CYBER TOOL MANAGEMENT
CNC TURNING CENTERS
CYBER SCHEDULER
INTEGRATED PRODUCTION MANAGEMENT SYSTEM
In Badestnost JSCo are introduced four unique modules integrated to maximize performance, streamline production and increase chip generating time.

CYBER TOOL MANAGEMENT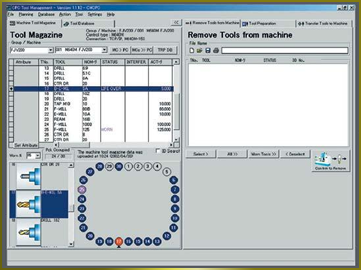 On-line tool status monitor, tool life control, tool requirement planning and tracking
The Cyber Tool Management is the key to maximizing cutting time whilst maintaining high quality machining. This provides on-line tool status and tool life monitoring function on Mazatrol Matrix machines anywhere in the network. Introduction of a newly developed Tool ID System provide a unique tool tracking function for your whole factory. Accurate tool requirement planning maximizes machine utilization through this module when integrated with Cyber Scheduler.